Summary
Tesla has been hit by the difficulties inherent to mass production.
However, Musk is known for breaking down problems and engineering state-of-the-art solutions.
The timing to create a competitive advantage in production might be close to perfect.
With Trump focused on enforcing US-based manufacturing on auto producers, Tesla might be positioned to benefit from tailwinds during the next couple of years.
—
Following Trump's election, I've been writing extensively about manufacturing. My focus is justified by the fact that a border tax will shift the current production paradigm from production arbitrage in 3 rd world countries to modernization of US factories.
To take advantage from this, I've analyzed several companies in the advance manufacturing field. Advanced manufacturing is the use of innovative technology in all the areas related with production in order to improve products and processes. Basically, we are talking about every technology that improves productivity in the factory floor and related activities.
This is where Tesla (TSLA) enters. Not that Tesla is a supplier of manufacturing equipment; it's just that Tesla badly needs to create some edge in its production efficiency. The auto industry is all about diluting fixed costs through high volume production. Unlike other seasoned auto manufacturers, Tesla lacks the years of experience dealing with suppliers that allow seamless integration of production parts. In addition, Tesla also lacks the skill to design cars while respecting the constraints of mass production.
However, Tesla has a big advantage over other US auto manufactures: the company already has its production footprint based in the US. This is a good starting point for an era where the President is really sensitive about manufacturing jobs and reducing imports.
Turning a disadvantage into a competitive edge
Investors following Elon Musk's career will note that his modus operandi is all about identifying difficult problems and engineer out-of-the-box solutions that create competitive edges. He did it with online payments and transfers, space transportation, electric vehicles. Now, he intends to do it with mass production.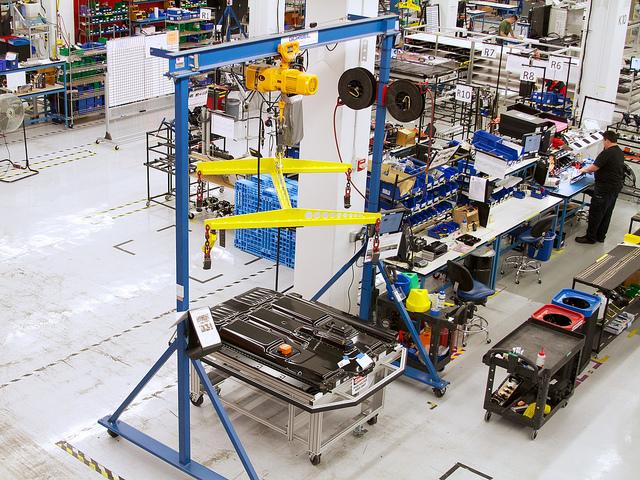 Photo Credit: Windell Oskay
One of the solutions he found was to buy Grohmann Engineering. The acquisition statement mentioned the following:
"As the machine that builds the machine, our factories are so important that we believe they will ultimately deserve an order of magnitude more attention in engineering than what they produce. At very high production volumes, the factory becomes more of a product than the product itself.
After increasing our output target to 500,000 cars per year by 2018, we began searching for the best engineering talent in automated manufacturing systems. (…) we believe the result will yield exponential improvements in the speed and quality of production, while substantially reducing the capital expenditures required per vehicle."
Additionally, Tesla also hired Peter Hochholdinger from Audi to oversee Tesla's production lines. His mission is to improve the factory floor productivity and he intends to do it through less labor and more automation in key areas. Other important area that needs to be improved, according to Hocholdinger, is the integration between design and manufacturing. In his own words:
"There's no way for a robot to install a harness today because the harness is not designed for a robot, it's designed for a human being. So we have to think about what can a harness look like so that a robot can install it. What about a fascia? Can I do it in a different way? So, these are things we have to think about, and that's the machine that makes the machine."
According to Musk, the goal is to improve the efficiency by an order of magnitude. To achieve this goal, he is even considering not only improve the productivity of the factory area, but also improving the productivity of the volume of the factory. He calls it improving the factory density and he offered the example of how the chip's density has evolved to make it more powerful.
Investors' takeaways
In my opinion, the recent developments mentioned in the previous paragraphs make Tesla a good vehicle to bet on Trump's manufacturing stimulus. The company has been focusing a lot on developing its manufacturing competences and resources. Those familiar with Elon Musk's engineering prowess won't be surprised if he is able to achieve the improvements capable of honoring his 500.000 vehicles goal by 2018.
The risks lie in the financial side, but even here it seems like a good time to get in. Tesla has been known for high capital expenditures and burning cash at impressive rates. Usually, this means that the company is tight in terms of liquidity. However, the company issued shares during 2016, building a comfortable cash buffer.
Table 1 – Tesla Balance Sheet YoY comparison

As we can see in table 1, the improvements are considerable and the company is now in a better shape than it was one year ago. We should expect that the Capex will return to higher levels than last quarter's. However, the economic environment seems to be changing in Tesla's favor.