Photo credit: Masaru Kamikura
The title kind of says it all. Intel (INTC) has kept profitability when compared with AMD (AMD) and Nvidia (NVDA). For instance, Intel is still more profitable than Nvidia and AMD. During the last couple of years, AMD and Nvidia were able to more than double their margins. But Intel was still capable of improving them by 40%, which is very respectable for an already huge operation.

(Source: Author's computations based on 10-Ks)
However, when we look at the gross margins, we understand that the gains didn't come from higher process efficiency. The gross margins actually declined for Intel. While their competitors had significant improvements.

(Source: Author's computations based on 10-Ks)
That means Intel's bottom-line improvements must have come from lower costs in SG&A, lower financing costs, or lower taxes (or some combination of these). Let's break it down: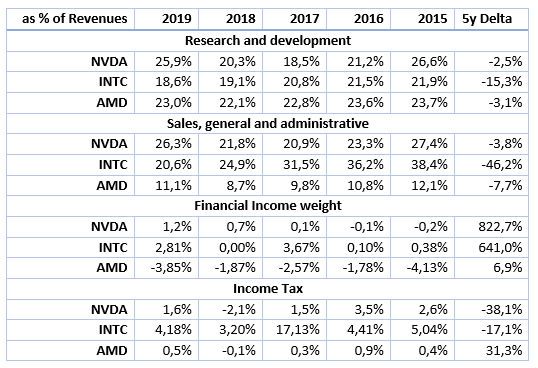 (Source: Author's computations based on 10-Ks)
The table above is enlightening. We can see that Intel's bottom-line has been improving thanks to cuts in R&D and SG&A. Basically, we are talking about measures like cutting jobs and axing R&D programs, which tend to be bad for employee morale. These are the types of patches great for appearances but awful to keep growth going.
In essence, these figures tell a frightening tale. While the company still has growing revenues and stable results, the emphasis is on keeping quarterly results stable through cost-cutting. The management vision seems blurred, as we can see by attempts at breaking into some markets followed by retreats once things seem harder than expected (e.g., mobile market).
That's a huge red flag and completely justifies the fact that AMD and Nvidia are trading at more than eighty times profits, while Intel scrambles to stay on double digits. Basically, investors see Intel as a possible value trap.

(Source: Seeking Alpha)
How to go about this stock, then? Well, often investing is counterintuitive. Just by looking at valuations, we feel compelled to buy it as a value stock. However, the story we've just laid, in the previous paragraphs, suggests that things are not looking good under the hood.
The financials seem to convey a picture of a company lacking vision and cohesion. The company chose a former CFO to head the business. The organization now seems to be more interested in quarterly earnings, and internal rates of returns, than in tech. In the past, the company has often stopped many of its efforts in adjacent areas, like mobile. Now, Intel has just sold its memory division to Hynix. Some people will say that it is a good management move because it was a loss-making division, but, for me, it is just the type of decision that you expect to come from a finance guy. That way the company will just keep discontinuing its way to oblivion. The next move seems to be going fabless. Next, it will be selling Mobileye. You can see where this is going.
The problem with those decisions is the short-term relief and feel-good sensation that they provide. The company gets rid of an underperforming asset while getting cash out of it. Any problems will only be felt in the long future, leaving the current management to collect the glory without any downside. Therefore, there is a clear bias towards selling and disposing of everything that seems to drag the performance, even if it might be critical to sustaining competitive advantages.
Therefore, is there any value to get from Intel? There might be, but you'll need the catalysts to unlock it. There still are very bright people at the company, meaning that a couple of these guys can still pull a rabbit or two. However, there is a striking contrast against what is going on at Nvidia and AMD. Both competitors seem to have momentum and a coherent vision.
All-in-all, after reviewing Intel and its competitors (here and here), I get to the conclusion that Intel doesn't have the proper operating momentum to be a good bet. Maybe, if something changes, like a new management team oriented towards technology, or a hit product that may unite the company, then I might review my analysis. The competitors, on the other hand, seem to have great momentum and coherent vision, but they also have bloated valuations. Unfortunately, the end conclusion is that I'll stay on the sidelines regarding this industry. Even if I feel that this is an industry that will grow a lot during the next decade, but the valuations make it too risky. In the end, this makes perfect sense. After all, this sector is one of the more followed, with many analysts and bloggers keeping on with every bit of data that comes out every day. In the following year, the only thing I see disturbing this balance is a visit by Mr. Market.
Disclosure: I have no positions in any stocks mentioned, and no plans to initiate any positions within the next 72 hours.
Additional disclosure: This text expresses the views of the author as of the date indicated and such views are subject to change without notice. The author has no duty or obligation to update the information contained herein. Further, wherever there is the potential for profit there is also the possibility of loss. Additionally, the present article is being made available for educational purposes only and should not be used for any other purpose. The information contained herein does not constitute and should not be construed as an offering of advisory services or an offer to sell or solicitation to buy any securities or related financial instruments in any jurisdiction. Some information and data contained herein concerning economic trends and performance is based on or derived from information provided by independent third-party sources. The author trusts that the sources from which such information has been obtained are reliable; however, it cannot guarantee the accuracy of such information and has not independently verified the accuracy or completeness of such information or the assumptions on which such information is based.