The current bull market in US equities is screaming for investors to reinvest profits elsewhere.
The Swiss franc has held safe-haven status for a long time and it might be wise to lay a nest egg there.
VAT Group seems like an interesting proposition for diversifying away from the US.

This one will seem a bit obscure to the US-based investor. If you don't know it yet, don't be scared. It might be a good thing, means that it is still under the radar. During the current environment of stretched valuations and periodic scares, investors' demand for alternatives will rise.
It should come as no surprise that, after riding a good part of the bull market in the US tech sector, I wanted to diversify away and add Swiss companies to my portfolio. The Swiss Franc has been historically regarded as a safe-haven. Additionally, in accordance with my macro outlook, I expect that spikes in US interest rates to produce turbulence. Therefore, diversifying away from the USD seems to make sense.
VAT Group, what's that?
After searching through the Swiss stock market, I've found a company that fits my macro outlook and should correlate well with the prevailing trend of higher use of processing capabilities in every sector of the economy. Let's see:
VAT Group (OTCPK:VACNY) produces high-end vacuum valves for manufacturing processes. These valves serve to isolate environments under two different pressures, allowing the transfer of substrates, like wafers, from the atmosphere to vacuum, and control gas flow and gas pressure. You can take a better look at the company's catalog here.
Basically, the company is a specialty manufacturer for industrial plants. In this type of business model, companies tend to have deep relations with their customers. Clients tend to be hesitant in changing supplier and long-term business relations tend to be the norm. This is the type of business where, if you show competence and reliability, you'll have a market of your own.
One reason why you might not have heard of this company is because the company's IPO occurred only on April 14, 2016.
Picture 1 – VAT All-metal Valve example (Source: VAT product Catalog)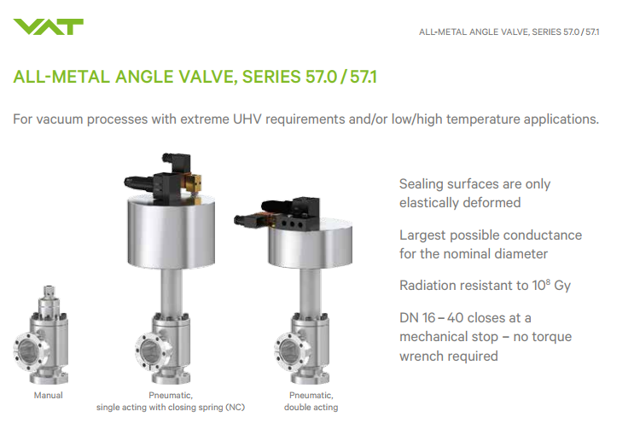 Tailwinds on VAT's business
For starters, we have secular trends, in automobile, personal gadgets, home appliances and among other industries, toward the use of more semiconductors. This means that there is a growing addressable market for vacuum related manufacturing equipment.
New applications also include pressurized atmosphere for magnet trains, cooling and heating systems for energy production, medical and pharmaceutical production and high-vacuum application to create new materials.
Additionally, the company's business model revolves around custom solutions developed during the early stages of the customer's product development. According to VAT's public records, the company states that 80 % of their valves are custom made to accommodate the customer needs'. This should bring operational stability to the company's business.
Finally, we are in what should be a late cycle bull-market. During this phase tech stocks should reach new highs on hopes of incredible projects coming through. This means that, for now, the capital markets should be open for even unprofitable companies to invest on new tech projects. This should correlate with increases in semiconductor manufacturing capacity.
VAT's Operational Performance
VAT has achieved a very good level of financial performance and this is likely to increase the appetite of institutional investors for its stock.
Table 1 – VAT Margins and EPS for 2017, 2016 and 2015 (FY) (Source: VAT Annual Reports)

The company's margins are very good and reveal a solid business. And this is accompanied by a 36% growth in sales, in 2017. Additionally, the IPO in 2016 allowed the company to be correctly capitalized and removed a huge part of the financial and liquidity risks of the company.
Table 2 – VAT Balance Sheet Ratios for 2017, 2016 and 2015 (FY) (Source: VAT Annual Reports)

All-in-all, this is a company taking full advantage from a growing industry, while entering the stock market at a good time. A PER of 42 should not be too much of a problem, if the company sustains its growth level.
Potential pitfalls
In Europe, enterprise governance tends to be sloppy and, for instance, the dividend policy is far from stable and predictable. In VAT's case, the company is planning to distribute 104% of its attributable income in dividends (2.5% dividend yield). I do not think that the dividend needs to be this generous, especially, given the fact that growth opportunities abound and it would preferable to reinvest on the business.
On a macro note, the present indicates that there is demand for more processing capacity, however, in the long term, semiconductor's demand tends to be overestimated leaving overcapacity in the industry. Investors should be sensible to this potential problem and understand that companies like VAT will fall in and out of favor periodically.
Disclosure: We have no positions in any stocks mentioned, but may initiate a long position in VACNY over the next 72 hours.