The turnaround thesis for Coach is showing signs of being correct.
Slow growth is the main persistent problem.
The company shows signs of being open to go with a growth through acquisitions approach.

If that materializes, a more complex thesis is necessary for Coach.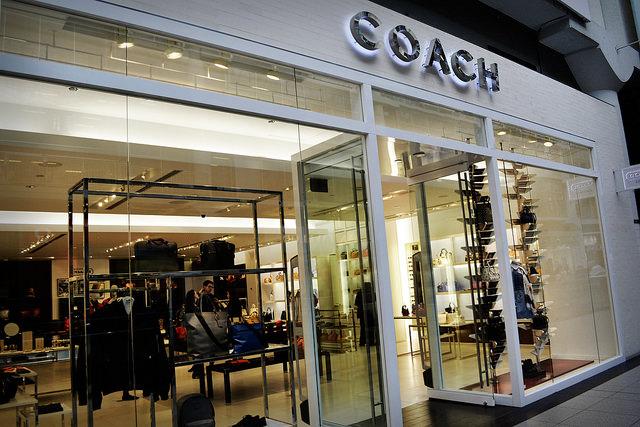 Photo credit: bargainmoose
Coach investment thesis 101
I've been testing an investment thesis on Coach (COH) for a long time. At the beginning, my thesis was pretty simple: a tarnished luxury brand will perform a successful turnaround. I wrote several extensive articles on why Coach had good chances of succeeding, but it all came down to a humble management acknowledging the damage done to its brand and taking logical steps to heal it.
The company started by focusing on its core brand by hiring a new creative director to reignite the company ethos. At the same time, the company started to revamp its retail stores and curbing excessive discounting practices. The impossibility of a fast adjustment made the performance of the turnaround hard to be evaluated. Only 2 quarters ago did, the positive effects of the transition, translate into noticeable positive figures.
Ok, so now what?
So, the numbers are improving but the sales growth is still slow. The market has acknowledged that, so what can we do with Coach's stock?
First, a stabilized luxury brand paying a generous dividend is not a bad long term investment at all, even in a low growth scenario. Additionally, if Trump is capable of reigniting inflation, companies with strong pricing power should get a bonus valuation multiple. Basically, as it is Coach should be a good investment in the perspective of a buy-and-hold investor.
However, the story doesn't end here. Now that the previous turnaround speculation is starting to materialize, there are signs that justify introducing further speculation.
 From good to great
The management team is not just hoping to reap the rewards of a successful turnaround. Victor Luis and his team are focusing on the next step: getting Coach growing again. Initially the strategy was taking Coach from an accessories producer to a full-fledged fashion house. This was partially achieved, but it takes time to change the public's perception and to get the positioning right. Managing an accessories brand is significantly different from managing a clothing fashion brand.
Therefore, a variant from this strategy seems to be transforming Coach into a portfolio of fashion related brands. The first step was the acquisition of Stuart Weitzman, which added a footwear brand to the company. The talks about a merger with Burberry (OTCPK:BURBY) (OTCPK:BBRYF) and more recently a possible acquisition of Kate Spade (KATE), make me believe that Coach is considering getting a portfolio of brands instead of relying solely on the expansion of its namesake brand to other categories.
Additional evidence sustaining this reading is the nomination of a CEO for the Coach brand. That's a clear sign that the company is freeing Victor Luis from managing the Coach brand to be focused on the organization strategy.
We are now entering the muddy waters of growth through acquisitions. Many companies have fallen victim of this strategy. In part, that happens because companies tend to get dependent on new acquisitions to drive profits. The acquisitions spree, generally, include a degree of mistakes and miscalculations that, in time, translate into write-downs. So, in the short-term we see accretive impact on earnings, driving the stock up, but on the long run impairments tend to drove the stock down.
From great to bad?
Not quite. There are several ways to perform growth through acquisitions.
Coach has a good financial shape, with total debt representing less than 18% of the assets and a current ratio above 2. Therefore, the company has leeway to perform a USD 3 billion acquisition through debt issuance, but so far it has only spent USD 500 million, indicating a careful approach.
Additionally, the rumors about possible deals include only companies that could add something to the full-fledged fashion house strategy. Maybe even leveraging the retail presence Coach already has. Therefore, maintaining a coherent strategy.
All-in-all, it doesn't seem to be a growth at all costs strategy.
Updated investment thesis
We can start to create a more complex narrative for this stock.
In the short term, the momentum in Coach's core business should provide support to the stock price and might even drive it higher. Basically, the turnaround keeps running effectively.
In the mid-term, possible acquisitions will bring accretive effects to earnings and might create a fever around the company stock (this is highly speculative).
In the long term, the uncertainty increases significantly, especially, if there are several acquisitions. The ability to integrate acquired companies properly will be a key factor. As an indicator, I suggest following the performance of the Stuart Weitzman business unit during the following quarters. It might be a good proxy to what Coach can do with its acquisitions.
Disclosure: I am/we are long COH.