The market atmosphere is changing. The French election brought an end to another chapter of the European saga. It is time to reevaluate my investment plays.
Most companies I own have good perspectives for future growth, but I don't mind reducing positions in 2 or 3 stocks, especially, if they might face macro headwinds.
Additionally, while managing portfolios, I always like to periodically take some money out of the table. This strategy has served me well in the past.
Therefore, I am reassessing the main macro themes guiding my investments.
Macro themes
Until the second round of the French elections, I was playing 4 macro themes:
Trump is focused on creating more manufacturing jobs. The border tax is a good example of a policy that could be a tailwind for US manufacturing. Corporate tax might also help manufacturing profits.
If Trump is capable of executing his policies, it will most likely result in an inflationary economic landscape. Therefore, I am betting, among others, on luxury brands with high pricing power to play a possible inflation outburst.
The perspective of a victory by a traditional center candidate in France, made me bet on the resurgence of Spanish banks.
There are several risks in the previous longs. Trump might get blocked in several of his initiatives, Le Pen put up a serious challenge in the French election, (i.e., European populism is not dead), and the Brexit might have unexpected impacts, among other risks. This made me think about a strategy to balance my portfolio. I choose gold and gold miners to counter the prevalent uncertainty.
The Background
Since the beginning of March, market themes changed focus from the US to Europe. The French elections offered a good market theme until the voting date.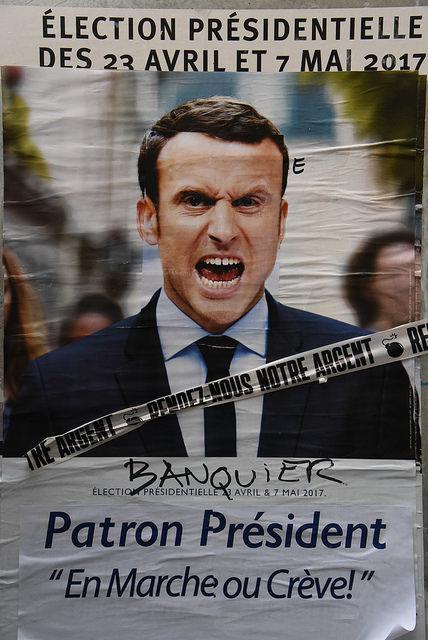 Photo Credit: Christophe Becker
Before the elections, in the article How to trade the boom and bust of populism in Europe, I updated my market plays by proposing a long trade in European banks. The reasoning was simple – if Le Pen won, the EUR could be over. European banks would have their balance sheets automatically converted to their national currencies, which, with the exception of the Deutsche Mark, would be lower than the EUR.
I felt the market was discounting that, and the banks traded lower than they normally would. This was my gut feeling, and I guessed I could take advantage from it, if Le Pen was defeated, through exposure to solid periphery banks. For this trade, I chose the Spanish-based Santander Bank (NYSE:SAN).
Although Santander is a bank based in Spain, it went through both the subprime crisis and the sovereign debt crisis without any yearly loss. Therefore, I assumed the risk would be lower than going with Italian or Portuguese banks, more speculative in nature.
The Good and the Bad
The good part is that it worked. European banks rallied significantly prior the elections.
The bad part is that I could have gone with BNP Paribas (BNP), and that the result would be the same. Additionally, as I assumed in the mentioned article, Portuguese banks like Millennium (BCP) (OTC:BPCGF) fared really well.
Graph 1 – Stock price performance for BCP, BNP, SAN and SPY since March 2017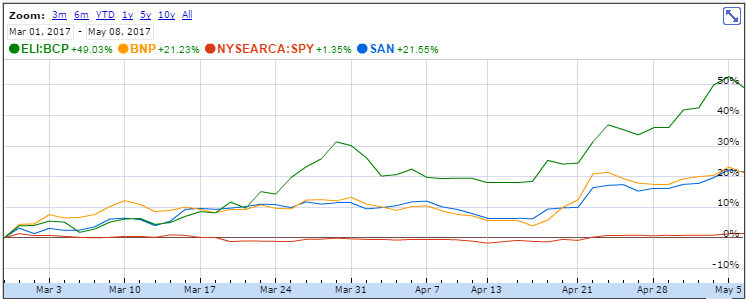 (Source: Google Finance)
As you can see, the Portuguese BCP could have been a great trade if I had the conviction to follow the idea. Nevertheless, Santander yielded a good enough return.
Trimming the scenarios
Now that the French elections are over, I'll have to trim my portfolio. I have been overweighted in my Long Europe. However, I am not a deep believer in the long-term fundamentals for the EU. The fragmentary tendency in Eurozone advises against a move into assets in periphery countries.
On the other hand, the latest economic data seems more favorable to a long position in European periphery banks. All in all, I have decided to significantly reduce my exposition to Santander Bank, but I retained up to 15% of the current position which corresponds to an underweight in my portfolio.
Manufacturing long
I am also getting worried about the manufacturing long. The creation of a border tax has become unlikely. My long manufacturing position was built around the boost to US manufacturing coming from a new tax on imports.
Tesla (TSLA) has performed very well reaching all-time highs. I've been long for a while, but the valuation has reached a level that seems to ignore the possibility of any negative outcomes. It's like if nothing could go wrong in scaling production 10 times. This might be a good time to sell Tesla shares and take some money out of the table. I'll also be weighing the possibility of trimming my 3D Systems (DDD) position.
Moving to long inflation and long uncertainty
On the other hand, I'll be increasing my long inflation. The proposed tax plan will hardly be fiscal neutral. The deficit and debt will rise before improvements in GDP can be felt. This means higher inflation and higher interest rates. Therefore, companies like Nike (NKE), Coach (COH), and Wells Fargo (WFC) will be among my choices.
Additionally, I'll slightly increase my long uncertainty through Gold (GLD) and Barrick Gold (ABX).
What about a long innovation?
To finalize, after the 1st quarter earnings season, tech companies have exhibited good results and the market seems to be putting a lot of emphasis on the idea that great technological breakthroughs will drive earnings for the coming years.
This resulted in rallies in tech stocks. In my view, tech breakthroughs driving earnings is not a new idea and it has resulted in bad investment decisions in the past. However, we shouldn't underestimate the possibility of some specific areas benefiting from maturing technology ready to be adopted by a broad market.
One of such cases might be autonomous driving. Here, it might be worth exploring solution providers for artificial intelligence, computer processing, and camera visualization. This is just an example, there are other fields worth exploring.
During the next couple of weeks, I'll be taking a good look at how to play an innovation long.
Disclosure: I am/we are long ABX, SAN, COH, TSLA, DDD.
I wrote this article myself, and it expresses my own opinions. I am not receiving compensation for it. I have no business relationship with any company whose stock is mentioned in this article.
Editor's Note: This article discusses one or more securities that do not trade on a major U.S. exchange. Please be aware of the risks associated with these stocks.