Summary
Genetics will be one of the future branches of healthcare.
The technology might be complex, but investors shouldn't dismiss it on that ground.
There are already great business models around this technology that should make investors salivate.
Usually, the technology field is populated by a special type of investor. Because of the jargon and the perceived complexity of the processes involved, normal investors are fazed away. Therefore, the audience for niche tech stocks tends to be people with some technical knowledge of the industry and the narrative around these stocks is heavily focused on the technical stuff.
As an investor, I tend to go after these hard-to-understand types of industries. If most people overlooks these fields because of its complexity, then there must be some reward for someone willing to make the effort. More often than not, the research conclusions tend to reveal a far easier to understand thesis than perceived at the start.
In this case, after spending time investigating genome and its related fields, I got the impression that, although the technical side is complex, the business models are not that different from other traditional sectors. As the technology evolves and becomes commercially viable, common investors should start looking at this field as just another branch of traditional healthcare (and maybe consumer wellness and fitness, in a not far future). To help you with that, the following paragraphs will unfold a simple, but solid, narrative that I hope will at least trigger your interest in the sector.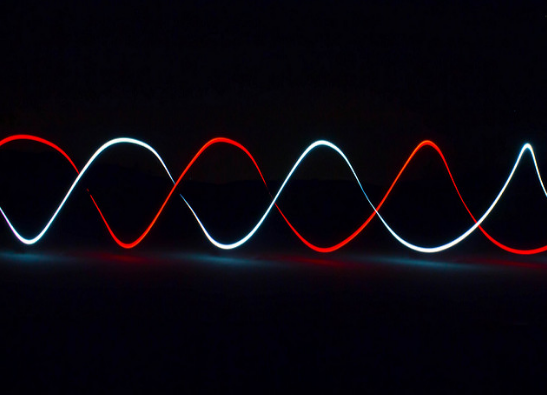 (Photo credit: Thomas Wensing)
From aspiration to reality
Human genome sequencing promises to be one of the mega trends in healthcare during the next decades. As technologies evolve and prices drop, more and more possibilities are emerging at a fast pace.
Having a detailed health map of oneself is an old desire that might not be that far away. However, for the scope of this article, I'll focus on 2 main areas where I see the most potential in the medium term. I am referring to undiagnosed diseases and early cancer detection/treatment.
DNA sequencing has proved to be very efficient in these two areas. Work done in children with undiagnosed diseases has shown great results helping doctors to get the diagnostic right and to put the correct treatment in place.
On the oncology side, there are benefits on the diagnosis side, most obvious is early detection of cancer, but we are also talking about getting the right treatment to the patient. Obviously, early cancer detection and early identification of types of cancer that a given individual might be more prone to develop are a huge help in monitoring and getting the treatments underway as soon as possible. However, a huge boost will come from predicting the way patients will respond to the various combinations of drugs and getting an optimized mix.
How will this translate to profitable business models?
As this technology becomes better and cheaper, the healthcare industry will need to incorporate it into their business models. The pharmaceuticals will need to develop new tests and diagnostics because hospitals and clinics will want to have them available for patients. Healthcare insurers will see demand for those types of diagnostic tools in their contracts coverage (if not kept private, genetic testing will impact insurance coverage, but that's for another topic).
For instance, demand for non-invasive prenatal testing (NIPT) is building up. More and more parents want to have precise diagnostics for their children. In the rare and inherited diseases field, there is a huge need to shorten the average time to get a correct diagnosis and avoid complications of late (or incorrect) treatments. And as stated before, anticipating oncology diagnosis and predicting optimized treatments are also areas where demand is firm and will increase.
The driver for all these market expansion to happen is to lower sequencing costs. This is the main catalyst to democratize the access to genomics and to broaden the scope of applications. The cost per genome has come a long wayfrom a couple million US dollars to close to a thousand dollars. This is unleashing a sea of opportunities around genomics. The best part is the trend is already materializing in profits and revenues.
Graph 1 – Cost per genome evolution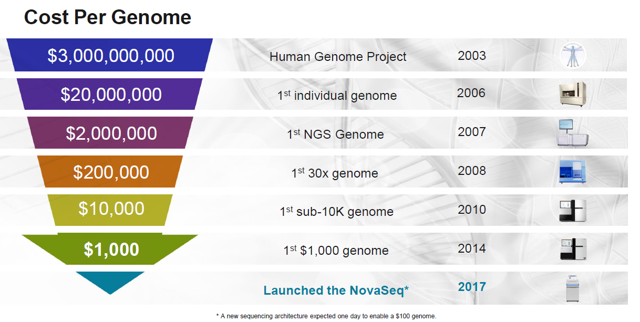 (Source: Illumina)
As these costs keep moving down, it increases the likelihood of health insurance companies allow the coverage of the sequencing and diagnostics costs. Ultimately, this could open the door to massification in a not far away future.
How to get exposure to the genome industry?
One of the best companies in this sector is Illumina (ILMN). I had already highlighted this company in a previous article where I discussed interesting tech stocks to own in a rising interest rate scenario.
This company is providing products and services for companies exploring the DNA potential in life sciences applications and clinical genomics. Laboratories, universities, agribusiness, research centers, government institutions, consumer genomics corporations and pharmaceuticals are among Illumina's clients. The company provides these organizations with the means to increase sample sequencing productivity, while driving down cost per sample. They achieve this through several platforms aimed at different types of institutions.
Graph 2: Illumina Platforms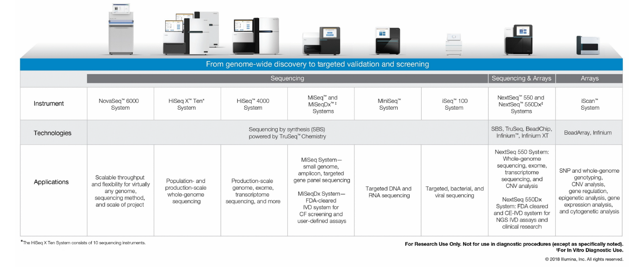 (Source: Illumina)
The company also provides consumables like instruments and reagents used in the process, and these represent the main source of revenues. It's a classic razor blade business model, where the main source of revenue comes after selling the main sequencing platform.
The thing I like the most about this company is the fact that they provide for the companies trying to extend the technology to new markets. Therefore, they are making revenues and profits from other companies' investments, i.e., other companies are assuming the risk of creating new markets, while Illumina is mainly collecting the rewards from the current tailwinds. Obviously, this might not go on forever, but right now it seems to be greatly favorable for Illumina.
How does this business model translate into the bottom line?
Financial data is already reflecting the healthy business model owned by Illumina. The company has exhibited healthy margins.
Table 1 – Illumina's Margins (2017 profit margin was adjusted for non-recurring income)

(Source: Illumina's Annual Reports)
These are great margins that imply pricing power in a growing market. This translates into a healthy operating cash-flow that has allowed the company to grow organically. Therefore, the balance sheet structure is robust, and should be able to sustain, at least to some extent, an unanticipated economic downturn.
Table 2 – Key Balance Sheet ratios for Illumina

(Source: Illumina's Annual Reports)
Takeaways
All-in-all, Illumina is already doing great. Its sales are growing steadily (15% in 2017 and 8% in 2016), and the profits are already showing. The company keeps eying potential ways to bring sequencing costs down, and while this trend is sustained, new markets should be opening up.
In this article, we covered only 2 main market applications: oncology diagnostics and treatment and undiagnosed diseases. Oncology is going mainstream with Medicare and Medicaid reimbursing some genetic tests. Illumina is at the forefront of this seemingly silent revolution, already profiting from it.
And there is more to come. For instance, the consumer market is growing and it will be a wild card for companies like Illumina. For them, it is just about driving the costs down so other companies can pick it up and widen the consumer market. Illumina will surely benefit from selling to those companies.
Disclosure: I am/we are long ILMN.
I wrote this article myself, and it expresses my own opinions. I am not receiving compensation for it. I have no business relationship with any company whose stock is mentioned in this article.