Summary
Trade tensions are boosting the USD.
Trade tensions and debt crackdown are depressing the Chinese market.
Fundamentally, China remains a long-term bet and the time for asset rotation might be approaching.
(Photo credit: Gage Skidmore)
Let's face it. China is on the rise; it is already one of the centers of a multi-polar world. However, trade tensions are creating doubt on investors. The present crisis should also serve to remind us of the juvenile nature of the Chinese stock market.
I am not downplaying the issue. It is serious and it will be a huge test on the Chinese policymakers, but there are now many positive long-term forces that, I believe, will offset this crisis.
The Asian giant is now a superpower, while paying salaries like Greece. Being an effervescent capitalist society, with rising salaries, but nowhere near the US standard, means that China will remain competitive and its internal market will keep growing. That is a brilliant combination.
Graph 1 – China average yearly salaries in CNY (USD/CNY at 6.86)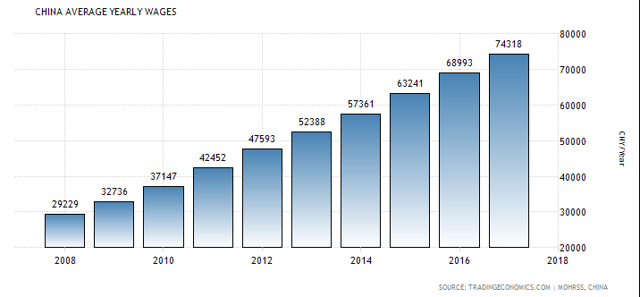 (Source: tradingeconomics)
Growing salaries mean bigger consumer market. And in a marketplace with 1.4 billion people, this means having almost 20% of the world as potential consumers.
Officially a communist state, China is already reviving its capitalist vein thanks to more freedom for private initiative. More and more businesses are springing up in the Middle Kingdom each year. Additionally, lacking inherited infrastructure from previous generations, the Chinese have been building it from scratch. Although costly, they are providing themselves with state of the art infrastructure, accessible to everyone.
They are not building trains, they are building bullet trains, they are not pushing for coal, they are pushing for solar power. The 21st century China seems to be emulating the 19th century United States. If the US had 76 million people in 1900, and the infrastructure it had allowed so many businesses and entrepreneurs to thrive in, imagine what China can do now.
China, just like the US back in the 19th century, wants to be at the forefront of the technology. And they have been pushing for it in multiple fronts. From retail to software, China has been trying to lead on the tech side. And men and women, capable of pursuing entrepreneurial activities, don't seem to be in short supply in 21st century China.
Where to invest, in China?
There are several suitable sectors. One of the most obvious is retail. With a growing consumer market, more and more people will become a part of the huge Chinese consumption economy. However, China does not own nearly as much area of real estate as Europe and the US. This is a fertile soil for online retailers. Companies like Alibaba (BABA) and JD.com (JD) already have a solid footing in this market.
Graph 2 – Retail space per capita (2012)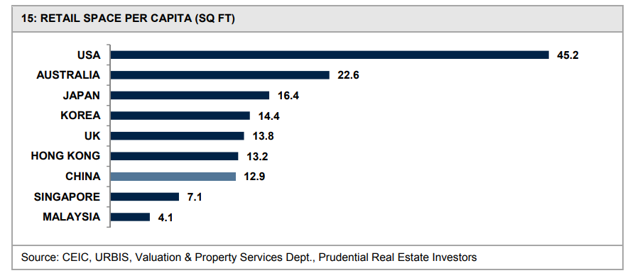 (Source: Prudential.com)
If there is online retailing, there must be parcel delivery. ZTO Express (ZTO) has been doing it profitably, and the market just keeps growing.
Tourism is also skyrocketing, with millions of Chinese travelling extensively through the country. When they need to know where to stay, Ctrip.com(CTRP) provides them lodging. If they do it by plane, they might book a flight with China Southern Airlines (ZNH). And it wouldn't surprise me if they have found the flight on Baidu's (BIDU) search engine.
To pay for all this, they might use Tencent's (OTCPK:TCEHY) pay system, while their kids sit across the room playing Fortnite.
Why invest in China?
First and foremost, the trend is your friend. In the previous paragraphs, I have exposed how the momentum in the Chinese internal market is developing. Entrepreneurial activity is growing, just like consumption. In a country with 1.4 billion potential consumers, you want to catch that wave.
Secondly, timing and asset rotation. US equities are near all-time highs and, meanwhile, the current valuations are very generous. While things are good, maybe it is a good idea to take some money off the table.
On the other hand, the USD has kept appreciating relative to Emerging Markets' currencies. Although, the weakness in EM might seem here to stay, it probably won't. After the 2008 crisis, EM recovered sooner than the Developed Markets, and this was, in part, because their economies have developed internal markets and gained some independence relative to DM economies.
Don't get me wrong, those countries are still driven by exports, but that dependency has been decreasing at the same rate that their internal markets have been growing. Right now, the dollar is behaving like a safe-haven because of trade tensions, and in due time it will, most likely, become an overcrowded trade.
In the long term, there are many fundamental reasons why the US dollar shouldn't keep appreciating in relation to the RMB beyond a certain level. One of them is the fact that sooner or later the RMB will be fully convertible, and I am betting on several countries pushing the demand for the Chinese currency while ditching the US dollar, to re-balance their currency reserves. When that day arrives, the market will be disrupted and a new balance for the USDRMB cross will be found.
For the long-term investor, the time to invest is when the dollar is strong and the Yuan is weak. In my opinion, the USD acting as a safe-haven is a sign that we are reaching that point and, therefore, time to exchange expensive dollars for cheap RMBs.
China is not all roses
Chinese policymakers have shown willingness to launch a debt crackdown. Unfortunately, they did so while the US are waging a trade war on China. This is much unfortunate because China needs to curb its debt growth. With or without the trade war, a debt-curbing agenda would always produce stock market turbulence. Nevertheless, China needs to shake off many unproductive enterprises that only survive due to extra debt. The country needs to depend less on debt to fuel growth, and doing it could have been a great timing.
If the trade war and credit contraction create a negative momentum in the Chinese economy, we can never be sure where it might end. So far, the Chinese government seems open to easing the policy but not to completely ditch the debt-curbing agenda. That seems the wise thing to do, at least, if this does not produce a hard landing of the economy.
For investors, the main risk of investing in China is having to deal with a hard landing. Two points should ease investors' fears. Firstly, I have already made the case in favor of China's long-term dynamics. Secondly, the market has already provided a generous 24% discount on the Chinese stock market. Grabbing it now, waiting in hope for more later, or doing nothing, that's your choice.
Grap3 – SSE Composite 2-year performance

(Source: Yahoo Finance)
Disclosure: I am/we are long BIDU, ZTO, BABA.
I wrote this article myself, and it expresses my own opinions. I am not receiving compensation for it. I have no business relationship with any company whose stock is mentioned in this article.